NovogeneAIT is Singapore's first dedicated Illumina HiSeq X service provider.
Located in Biopolis, our HiSeq X Five System is managed, operated by a highly experienced scientific team.
HiSeq X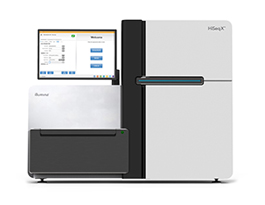 This sequencing solution is the world's first to break the $1000 human genome barrier. Each HiSeq X System can sequence a human genome at 30x coverage or greater for significantly less than $1000 in consumables. When used at scale, the HiSeq X Ten delivers a $1000 genome, inclusive of instrument depreciation, DNA extraction, library preparation, and estimated labor for a typical high-throughput genomics laboratory.
NovoPM™
NovoPM™ CANCER PANELS
Molecular diagnostics offers a powerful new tool to help oncologists and pathologists study the genetic causes of cancer as well as the potential of targeted therapies, opening the door to the promising potential of personalized medicine. For cancer researchers conducting mechanism studies, biomarker screening and validation, and therapeutic target discovery, Novogene's NovoPMTM cancer panel is a cost-effective technology that enriches specific regions or targeted genes through probe hybridization. More affordable than whole-genome and whole-exome sequencing to identify variants underlying the pathogenesis of cancer, NovoPMTM cancer panel is available for both tissue and liquid biopsy. As of August 2016, Novogene has applied its NovoPMTM cancer panel to 3,848 tumor tissue samples and to 2,122 liquid biopsy samples.
Services Offered
De novo genome assembly
Reference mapping
Variant analysis
Differential gene expression analysis
Copy number and structural variation analysis
Custom pipeline development, visualization and reporting16S rRNA sequencing and species identification
Methylation-Seq, whole epigenome, reduced dataset epigenomics
Sequencing Types
Human Genome sequencing
Whole Genome sequencing - Plant/Animal
Microbial Genomics
Single Cell Sequencing
Exome Secuencing
Targeted Sequencing
RNA-seq
ChIP-seq
Metagonimcs
Epigenomics
Expertise
Comprehensive NGS solutions, from sample preparation to bioinformatics analysis
Rigorous quality control in every step of the NGS workflow
Fast turn-around time
Experienced technical and scientific support at your service
Personalized NGS services based on project-specific needs available
NovogeneAIT Genomics Singapore Pte Ltd was established in 2017. A Joint venture between Novogene China and AITbiotech in Singapore, two of the most experienced providers of DNA sequencing solutions in Asia and globally.
At NovogeneAIT, we are proud to offer various Next Generation Sequencing (NGS) services utilizing leading sequencing platforms including Illumina (HiSeq, NextSeq and MiSeq), Thermo Fisher (Ion Proton and Ion PGM) and Pacific Biosciences (Sequel System). 
We have extensive expertise using these platforms in a wide array of NGS sequencing projects.
| Orders | Lead Time | Finished Project |
| --- | --- | --- |
| Recived on Monday | 3-5 Working Days | Data Recieved by Friday |